Welcome to Raven's Perch Media
bibliography of the grand canyon     bibliography of the colorado river      colorado river bibliography      grand canyon bibliography
THIS SITE IS THE HOME OF
THE GRAND CANON
A Worldwide Bibliography of the Grand Canyon and Lower Colorado River Regions in the United States and Mexico
---
THE GRAND CANON is a unique bibliography containing 90,000 categorized and augmented citations of publications from around the world in 95 languages, with extensive background and supporting information.  It is a bibliographical canon for the Grand Canyon and Colorado River regions in Arizona, Nevada, California, Baja California, and Sonora, including the Colorado River delta and adjacent upper Gulf of California. Publications cited here were produced between ca. 1535 and 2018 (with a few from 2019 that were available in late 2018 and January 2019).
On this website the entire volume of more than 11,700 pages is divided into its 32 subject-specific parts, plus front matter and a special nomenclatural appendix. Each part, as well as other texts in this volume, can be downloaded as a PDF file. Many users will prefer this divided presentation because of the widely different subjects covered by the bibliography. All files are extracts from the full volume, retaining original pagination and layout.
---
Users who wish to download the whole volume as a single PDF, use this button:
---
CATALOGERS  NOTE
Canon (in English and Spanish) :  an authoritative list of works.   Not  Canyon  or  Cañón
---
This 3rd Edition of THE GRAND CANON commemorates the 2019 Centennial of Grand Canyon National Park and the Sesquicentennial of John Wesley Powell's first Colorado River expedition.  A 4th Edition is in preparation, but no date of completion is as yet projected.  However, users may see many of its new additions and emendations by consulting the "Supplement and Statistics" tab at the top of the screen.
Most documents posted to this site are in PDF (Portable Document Format).  The free Adobe Acrobat Reader or comparable Acrobat product is required (see Adobe options at https://acrobat.adobe.com/us/en/acrobat/pdf-reader.html)
Everything on this site can be downloaded free of charge; no log-ins or account registrations are required, and no tracking (other than that invoked by your web browser) is implemented. No "cookies" are used by this website. Please also read the "Copyright" tab at the top of the screen, which includes a Fair Use statement.
---
This volume, as well as its individual parts on the Raven's Perch website here, is presented in a book format, which PDF users with large screens may wish to display as opposing pages with odd-numbered pages on the right. However, using the two-page view is not necessary to use this digital publication, though the two-page mode is especially helpful for some pages that are designed to be best viewed as opposing pages. Printouts of pages will be in their book-like appearance as seen on screen.  (Implementing the two-page appearance depends upon the version of Adobe Acrobat you use.  Use the appropriate viewing mode that displays the first page by itself; then all subsequent pages will be in proper book-like appearance.  The method will depend upon the version and specific Adobe product you use; for example, under "View" and "Page Display" use "Two Page View" and ensure that "Show Cover Page in Two Page View" is checked.)
Additional material includes essays relating to the craft of bibliography and the usefulness of monographic bibliographies even in the digital age.
Taking advantage of the digital format, navigation within THE GRAND CANON is aided by embedded hyperlinks, though they are not essential for general use or browsing or if using pages printed from this volume. Within each separately posted part on this website, the hyperlinks within that part, and to external sites on the web, are functional, but hyperlinks to other parts of THE GRAND CANON do not operate.  Hyperlinks within the single contiguous volume, accessible through the link above, are fully functional throughout.
---
NOTE REGARDING A COMPLEMENTARY ONLINE RESOURCE:  Since January 2000 the author has also been responsible for a separate online searchable database, "A Bibliography of the Grand Canyon and Lower Colorado River", sponsored by the Grand Canyon Conservancy at http://www.grandcanyonbiblio.org.  That database is an outgrowth of the earlier print editions of the bibliography, also by this author, produced by the Conservancy in 1981, 1990 and 1993 under its earlier names, the Grand Canyon Natural History Association and the Grand Canyon Association. [The Conservancy (http://www.grandcanyon.org), founded in 1932, is the official not-for-profit partner of Grand Canyon National Park.]
The searchable database is valid to mid-2015 but does not contain thousands more citations from the 16th to 21st centuries that were gathered since then; nor does it include thousands of aesthetic embellishments that appear in THE GRAND CANON or the presentation of numerous foreign-language citations that also display non-Roman characters. Many users still find the database a useful utilitarian resource, but THE GRAND CANON is far more comprehensive and now is the definitive version of the bibliography.
The reasons for the existence of the two bibliographies, and their differences, are detailed in a separate section here (see in the "INTRODUCTION AND COVERAGE" tab at the top of the screen).
---
Users who are interested in also downloading the 1st or 2nd Edition of THE GRAND CANON use these buttons:

RAVEN'S PERCH COLOPHON
Detail from "Camp – Colorado Plateau".  By Heinrich Balduin Möllhausen.  Lithograph by J. J. Young, after original artwork by Möllhausen.  (Joseph C. Ives, Report Upon the Colorado River of the West, Explored in 1857 and 1858, U.S. Government Printing Office, Washington, 1861, [Part I] General Report, Plate VII.)  The complete plate is shown below.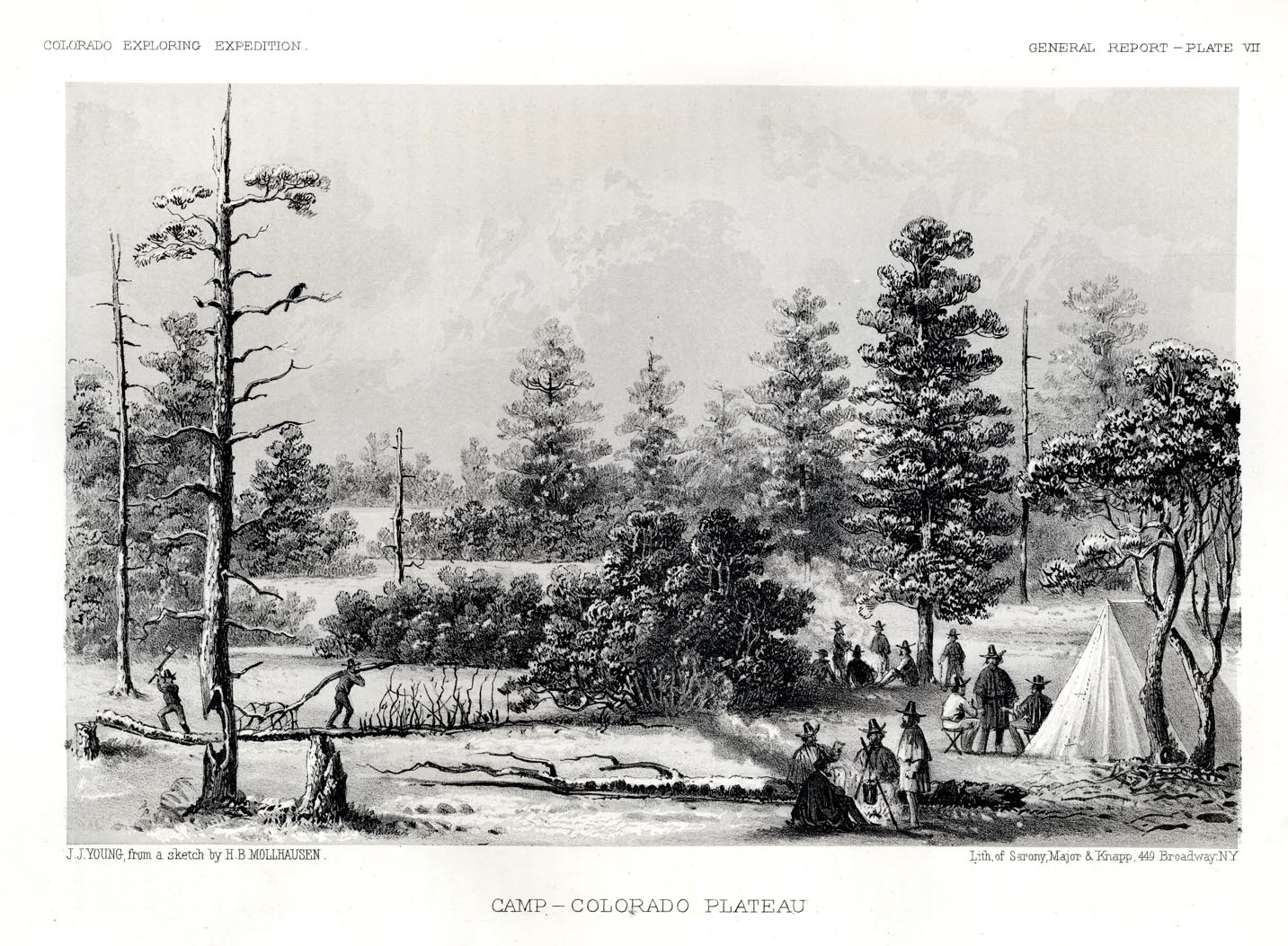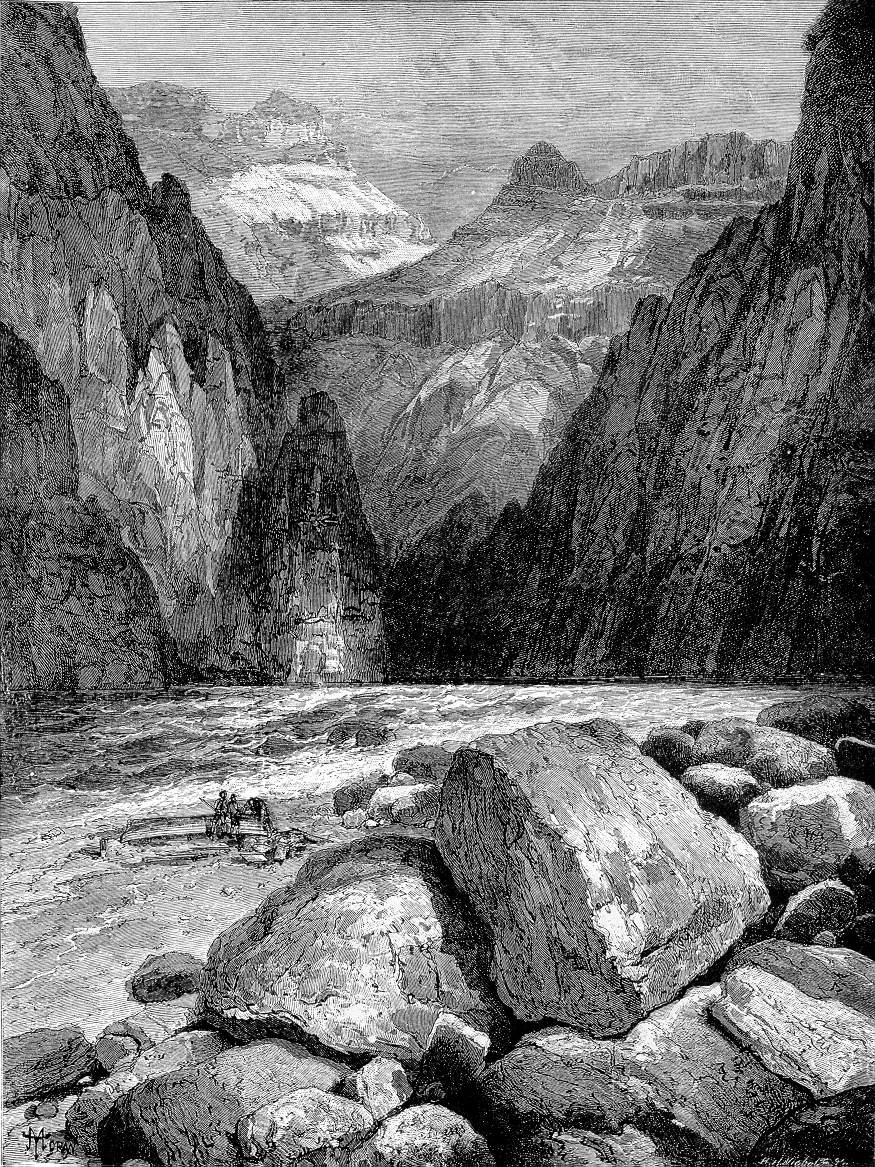 "Granite Falls.─Kaibab Division.─Grand Cañon."
By Thomas Moran.  Engraved by H. H. Nichols.  (Clarence E. Dutton, Tertiary History of the Grand Cañon District, U.S. Geological Survey Monograph 2, 1882, Plate XXXI.)
---
QUICK LIST OF INDIVIDUAL PARTS OF THE GRAND CANON
Front Matter (these sections and others can be downloaded through tabs at the top of the page)
Executive Overview
Introduction to Content and Coverage
Surveys and Commentaries
THE BIBLIOGRAPHY
SEE UNDER "THE BIBLIOGRAPHY" TAB AT TOP OF PAGE TO DOWNLOAD INDIVIDUAL PARTS, OR DOWNLOAD FULL VOLUME THROUGH THE BUTTON IN THE FRAME TO THE LEFT
MANY PARTS ARE SUBDIVIDED AND/OR HAVE APPENDICES (SEE THE DETAILED TABLE OF CONTENTS LINK FARTHER BELOW)
1  Bibliographical Publications
General and Particular-Interest Subjects
2.  General Publications—Historical, geographical, social, cultural, biographical, popular, and commonplace works
3.  The New York Times
4.  Memorials
5.  Publications For People With Disabilities
6.  Publications For and By Youth and Young Adults
7.  Fiction
8.  Verse
9.  Travel and Trail Guides
10.  Colorado River Guides
Specialized Material About the Lower Colorado River Region (below Grand Canyon)—SEPARATE-COVERAGE GROUP
11.  Environment, Natural History, and Special Scientific, Technical, or Cultural Issues
12.  Water Supply, Management, and Policy
Human Affairs
13.  Administrative and Management Issues
14.  Sociology, Recreation, Education, Economics, and Related Subjects
15.  Health and Safety
16.  Archaeology and Cultural Resources
17.  Native Americans
Environmental, Biological and Earth Sciences
18.  Physical Environment
19.  Biology and Ecology
20.  Glen Canyon Environmental Studies Program
21.  Geology and Paleontology
22.  Hydrogeology of the Colorado River
23.  Geological Field Guides
24.  Geologic and Topographic Maps
Graphic, Audio and Digital Media
25.  General and Specialized Maps
26.  Audio-Visual Works
27.  Audio Works and Musical Scores
28.  Separate Imagery
29.  Computer and Interactive Media
Additional Guides
30.  Book Reviews and Similar Notices
31.  Newspaper Guide
32.  Marginalia