OTHER SPECIAL BIBLIOGRAPHIES & VOLUMES
THESE ARE MOSTLY ARRANGEMENTS THAT ARE NOT SEPARATELY PRESENTED IN THE 32 PARTS OF THE MAIN BIBLIOGRAPHY
ALSO LISTED FARTHER BELOW ARE VOLUMES THAT ARE INDEPENDENT BIBLIOGRAPHICAL AND HISTORICAL CONTRIBUTIONS TO GRAND CANYON LITERATURE
---
THE FOLLOWING SPECIAL BIBLIOGRAPHIES ARE AVAILABLE
see farther below for special bibliographies and volumes that are in preparation
---
Use the buttons below to download the latest versions
A separate list of special BIOLOGICALLY FOCUSED bibliographies will be found under the "Special Biological Bibliographies" tab at the top of the web page.
These topical bibliographies are extracted from among the citations in THE GRAND CANON Volume 1 (4th Edition, 2022).  They will be occasionally updated on this website and will include citations that have been added to the overall 5th Edition that is being compiled (but with no projected date of completion).
[To download the individual parts of THE GRAND CANON, use the dropdowns under the "Volume 1" tab at the top of this webpage.  See a quick list of the parts of the bibliography on the Raven's Perch home page.]
[To download the THE GRAND CANON Volume 1 in its entirety in one PDF use the button on the Raven's Perch home page.]
---
Bibliography of Native Americans Traditionally Associated with the Grand Canyon
Havasupai Tribe
Hopi Tribe
Hualapai Tribe
Kaibab Band of Paiute Indians, and Regional Paiute Bands
Navajo Nation
Pueblo of Zuni
Yavapai–Apache Nation
Unaffiliated Tribes
Native Americans Generally
This bibliography, based principally on Part 17 of THE GRAND CANON, includes pertinent citations from other parts of the bibliography.  It is arranged by tribal group, as shown above.
---
Bibliography of Administrative and Management Issues in Federally Administered Lands of the Grand Canyon and Vicinity
I.  Grand Canyon National Park (with Glen Canyon National Recreation Area—Lees Ferry, Vermilion Cliffs National Monument, Pipe Spring National Monument, Grand Canyon–Parashant National Monument, Gold Butte National Monument)
II.  Colorado River in Grand Canyon National Park
III.   Lake Mead National Recreation Area
IV.   Kaibab National Forest (North Kaibab and Tusayan Ranger Districts)
V.   Issues Relating to Boundaries of Federal, State, and Native American Lands
This bibliography, based on Part 13 of THE GRAND CANON, arranges citations by federal administrative unit.  The Lake Mead section complements the separately available "Hoover Dam Bibliography" (below).
---
Mapping Grand Canyon: A Chronological Cartobibliography
Mapping Grand Canyon is divided into four major sections. Each concentrates on one of the principal names by which Grand Canyon was called during the past three centuries, which have appeared on maps though of course not necessarily with any degree of formality or consistency: Puerto de Bucareli (1777–1872), Big Canyon (1853–1888), Great Canyon (1853–1879), and Grand Canyon (1868–present).
---
The Hoover Dam Bibliography : with appendices: Mike O'Callaghan–Pat Tillman Memorial Bridge; Selected Maps; General Guide to Documentation for Hoover Dam and Boulder City in Historic-Places Registers; General Guide to Commercially Produced 3-D Transparency Products
Although THE HOOVER DAM BIBLIOGRAPHY omits most material pertaining to Lake Mead, see also the separate bibliography of administrative and management issues (above), which includes a section for Lake Mead National Recreation Area.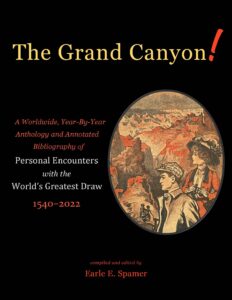 ---
The Grand Canyon!   A Worldwide,Year-By-Year Anthology and Annotated Bibliography of Personal Encounters With the World's Greatest Draw  1540–2022
Introduction: On Foot, In Saddle, and With Motor, Oar, and Paddle
Part I.  Primary Explorations
Part II.  To, Into, and Expressing the Canyon
Part III.  Down (and Up) the Colorado
So much has been written about the Grand Canyon from personal experience that it may be surprising that a comprehensive record of these impressions has never been put together. Never has every reference been compiled—nor for that matter have so many items been forgotten from the very time they were published. Yes, there are bibliographies, but most of them are specialized or embrace the tremendous hail of everything that goes beyond personal records and impressions.  THE GRAND CANYON!  cites, quotes, and annotates the published records of personal encounters with the Grand Canyon, or accounts told on behalf of those who were there, from 1540 to 2022. Many of the items that are now in the public domain (published before 1927) are quoted from, sometimes at length. Numerous publications are in languages other than English; titles and quotations from them are provided in the original languages and in translation.
This volume documents what is otherwise understood only by intuition or supposition— that the Grand Canyon is an intensely attractive draw, and people have "used" its resources intensely. It goes beyond prose, gathering up the works of poets and the publications that record the work of artists, photographers, musicians, cinematographers, and architects—all of those people who have used their crafts to express their impressions of the canyon. And it has seemed logical to split the main part of this volume into the two principal Grand Canyon venues—arriving and seeing it from the rim and on its trails, and experiencing it along the Colorado River.
NOTE   To Federal and Native American Administrators
THE GRAND CANYON! documents the "use" of the lands you manage as a resource in and of itself. Much of it probably has never come to your attention and thus it may offer a new perspective of the breadth of interest and participation that people have had with the Grand Canyon. These items are, each in their own way, reports of activities; and however elegantly or not the experiences are described or portrayed, their value is limited if an audience does not know of them.
This bibliography omits publications that pertain to scientific research and to cultural resources of the Grand Canyon. Thousands of these publications are already cited and summarized in other bibliographies and documentary sources [see this website in particular]. Instead, here are personal reports and perspectives, first-hand or told on behalf of the participants.
The people who are cited in this bibliography are from around the world. They express their encounters with the Grand Canyon through writing, lecturing, painting, sculpting, photographing, filming, composing music and theatrical performances, and designing architecture. In their activities they share their experiences and impart their impressions of visits to the Grand Canyon, briefly and indulgently alike. These people are your authorities on the ways the Grand Canyon is "used," by the general public mostly, your expert witnesses to personal Grand Canyon experiences.
The writers and poets have communicated in many languages. The prose accounts not in English are translated herein—often for the first time, so they are bound to be newly recovered information. Writers' abilities to communicate themselves are subjective, of course, but they all are undeniable. The record assembled here provides far more information than has previously been available. It shows how the world has interacted with the canyon, over centuries. It forms a set of authentic references that document the attention to, activities on, and impressions of the lands that are today secured by governmental agencies of the United States and Native peoples.
---
Complementing THE GRAND CANYON! is a separate volume, with a more readable layout, that presents the quoted texts for the period 1540-1926; these are all publications that are now in the public domain.  See under "OTHER SPECIAL VOLUMES" below: "My God, there it is!" The World Encounters the Grand Canyon, 1540-1926.
OTHER SPECIAL VOLUMES
NOW AVAILABLE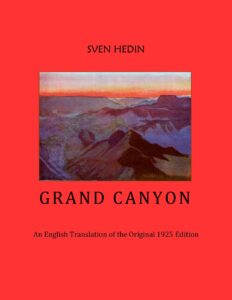 ---
Grand Canyon.  By Sven Hedin.  An English translation of the original 1925 edition.  Edited by Earle E. Spamer.  Published by Raven's Perch Media.
SVEN ANDERS HEDIN (1865–1952) was a Swedish adventurer best known for his explorations across the Asian continent and for a tumultuous professional life, all of which is beyond the scope of this book. The  publications stemming from his explorations are numerous, and he was also widely known for his popular travelogue for young readers, Från Pol till Pol ("From Pole to Pole," published in 1911) that was translated into many languages. But less well known is the entire book that he wrote about his three-week visit to the Grand Canyon in the summer of 1923, based on letters he had sent to his mother and illustrated with his original artwork. It was published first in Swedish in 1925 with the simple title, Grand Canyon; today  this is a scarce volume in the antiquarian book market. It was translated into German in 1926 and Russian in 1928. It never was translated into English, until now.  The original 1925 volume is now in the public domain.  The translation text and Hedin's illustrations may be freely used.
---
"My God, there it is!"  The World Encounters the Grand Canyon, 1540–1926.  Compiled and edited by Earle E. Spamer.
Part I.  The Writers
Part II.  The Poets
Quotations from publications in languages other than English are provided only in translation.  Readers who may need to review the quotations in the original languages will be referred to the more complete bibliography (see farther above), "THE GRAND CANYON!"
FROM THE PREFACE:
This book compiles an edited series of transcriptions (and some translations) of the Grand Canyon visits that have come down to us between 1540 and 1926. The cut-off is not arbitrary, but reflects the fact that the publications to that year are now in the public domain; if they had had any copyright protection, it has lapsed. But 1926 also represents the earliest time when the Grand Canyon was one of the United States' new national parks, which in itself meant that even more people were drawn to visit the chasm. Visitorship had been ramping up under the prolifically successful advertis-ing campaign of the Santa Fe Railway, which for decades had been enticing its ridership to stop by the canyon—if indeed it was not the principal destination. The railroad drummed it into the collective consciousness of Americans of every traveling caste, whether they were aboard parlor cars and upper berths, or among the steerage class of those who bought only a seat. Even so, some of the early visitors arrived on their own, overland; and if they published anything about their experiences, it is also here.
Here I quote from early visitors' encounters with the Grand Canyon. If they had little to say, well and good, but those who gushed at length have had to be accommodated as well. Most were enthusiastic, as we might hope they would be, but there were a few who groused of their experience. They are all part of one story, a compilation of which has never before been made. There are anthologies, of course, that delve into a few of the works cited herein, but often even they curtail some of the additional interesting remarks that the writers had made. But I have no intention of replicating every word that they have written—especially those of the pioneer chroniclers, Balduin Möllhausen, Joseph C. Ives, John Wesley Powell, and Clarence E. Dutton in particular, who wrote entire books. I instead have had to arrange a tran-script of worthwhile parts of their texts, which deliver specifically personal observa-tions of their encounters with the Grand Canyon, going further than many of the time-honored (perhaps worn-out) series of quotations, although for comprehensiveness I must also embrace those exhausted scripts.
Beyond the luminaries, many if not most of the authors quoted here will be unknown; or perhaps just forgotten in the passage of years. Some were brief; others elaborated at such great length that the more essential accounts of their experiences had to be culled from even longer texts. They report observations, but better yet many of them go into personal reflections. Those who wrote in languages other than English are translated here, usually for the first time.
Despite the tedium of reexpression that one will encounter in this book, each of the hundreds of people quoted herein had taken the time to put their experiences on paper. A lot of them were indeed original, each in their own way; and a few were honest enough to credit any quotations they made. Some were very good at crafting their narratives; a few are stellar examples. And others, well, read on and discover them, too . . .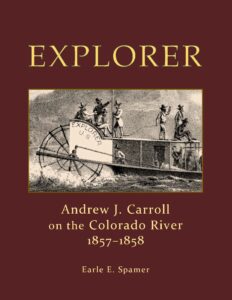 Explorer : Andrew J. Carroll on the Colorado River, 1857–1858.  By Earle E. Spamer
including Transcriptions from the "General Report" of Lt. Joseph C. Ives' Report Upon the Colorado River of the West (1861);  and  Translations from Balduin Möllhausen's Reisen in die Felsengebirge Nord-Amerikas bis zum Hoch-Plateau von Neu-Mexico (1861)
FROM THE PREFACE
The story of Lieutenant Joseph C. Ives' expedition up the Colorado River in 1857–1858 with the steamboat Explorer is well known, well told, and, well, old news. What this book brings to light, however, is Andrew Carroll. He was the engineer who ran the boat's engine; he also put its parts together in an improvised dry dock dug into the clay of the Colorado River delta, and he may well have helped build the thing in Philadelphia. Ives had occasional things to say about Carroll in his "General Report," the first part of the 1861 government publication about the expedition. So did fellow voyager Balduin Möllhausen, who wrote his own book about the expedition, in German and published commercially in Leipzig, also in 1861, which has been largely hidden from readers of English. Their sparse remarks about Carroll are dispersed within long texts, and although lots of things have been written about Explorer's expedition, the engineer has been ignored, save once in a while for his name, who until now did not even have a given name to go along with his surname. He was sketched by Möllhausen, and those little pencil drawings, still owned by family members in Germany, were fortuitously included in a 1995 book about Möllhausen's artwork from the Colorado River expedition. So while we have an idea of what Carroll looked like, we have lacked a united story about him.
This book does not presume to retell the Ives expedition, so meticulously told by Ives and Möllhausen and recast by historians, professional and avocational alike. It is instead a précis of Carroll's perspective of things; a story never gathered. On the Colorado, we rely wholly on Ives and Möllhausen since Carroll never wrote about his adventures. Ives kept to the factual details of duty in writing about Carroll. Möllhausen wrote more personably and at greater length, but his rendition has never come down to us in English, except for excerpts, and those were not about the engineer. It's a shame, because Carroll's Colorado River story is a remarkable one, brief as it is. Here was a young man, an Irish immigrant in his mid-twenties, sent with a boat kit from Philadelphia to the mudflats of the Colorado River delta (by way of Cuba, Panama, and California ports), where he had to get the sea-weathered pieces into shape (literally), put the kit together with its three-ton boiler and engine running, and then handle its controls under the orders of the hired captain—orders that changed frequently because of the fickleness of the untamed Colorado's currents, shallow bottom, and obstructions. For a man used to Philadelphia's gently tidal, unrocky Delaware River, this was something altogether different. Carroll, according to Ives, thought the Colorado was "the queerest river to run a steamboat upon."
Without his expertise the expedition could not have continued with its planned landward venture that took Ives and part of his command to the Grand Canyon. So even though Carroll never got to see the canyon, he made it possible for the first exploratory expedition to reach it—and more importantly, to publicize it through word and art. True, others would have gotten to the canyon, eventually, but Carroll served as a shipwright and engineer and followed the hails of the pilot above his head. He delivered in one piece to their embarkation point at Beale's Crossing the international group of Lt. Ives, Dr. Newberry, Herren Möllhausen and Egloffstein, and the soldiers of the land expedition.
Specifically to place Explorer and its engineer in the light of historical acknowledgment, both Ives' and Möllhausen's writings are here specially brought together for the first time. My own contribution has been to learn about the man and the firm that made Explorer. This book celebrates Andrew J. Carroll and his new-found part in the history of the Southwest and of Philadelphia.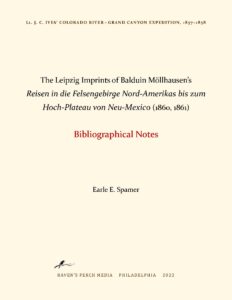 The Leipzig Imprints of Balduin Möllhausen's Reisen in die Felsengebirge Nord-Amerikas bis zum Hoch-Plateau von Neu-Mexico (1860, 1861): Bibliographical Notes.  (By Earle E. Spamer)
Balduin Möllhausen's Reisen in die Felsengebirge Nord-Amerikas bis zum Hoch-Plateau von Neu-Mexico, unternommen als Mitglied der im Auftrage der Regierung der Vereinigten Staaten ausgesandten Colorado-Expedition ('Travels into the Rocky Mountains of North America to the High Plateau of New Mexico, undertaken as a member of the Colorado Expedition on behalf of the United States Government') was issued under two imprints in Leipzig, both consisting of two volumes. One imprint is that of Otto Purfürst (undated and presumed to be 1860), the other is that of Hermann Costenoble (1861). Alexander Edelmann of Leipzig was the printer for both imprints as well as the lithographs in those volumes.
The Reisen is Möllhausen's account of his participation in the Colorado River exploring expedition under the command of Lt. Joseph C. Ives during 1857–1858. The expedition ascended the Colorado River in a purpose-built steamboat, from the river's mouth in the Gulf of California, to Black Canyon. After nearly wrecking the boat there, a brief exploration by skiff reached the confluence of Las Vegas Wash, not far upstream from where today stands Hoover Dam. Returning to Beale's Crossing, a land component of the expedition left the river, traveling eastward to Fort Defiance, New Mexico Territory (in today's Arizona). On that trek they visited the Grand Canyon twice — first a descent to the Colorado River in Peach Springs Canyon and Diamond Creek, and second, a partial descent to Cataract Creek (Havasu Canyon).
The U.S. Congress published Lt. Ives' formal report of the expedition in 1861, which appeared after the Möllhausen volumes (and after Ives had defected to the army of the Confederate States of America). If the presumed date of the [1860] imprint is correct, it demonstrates that Möllhausen's memoir on the Colorado River expedition was published perhaps nearly a year before Ives' Report reached its readers and libraries.
---
SPECIAL VOLUMES
COMING SOON!
---